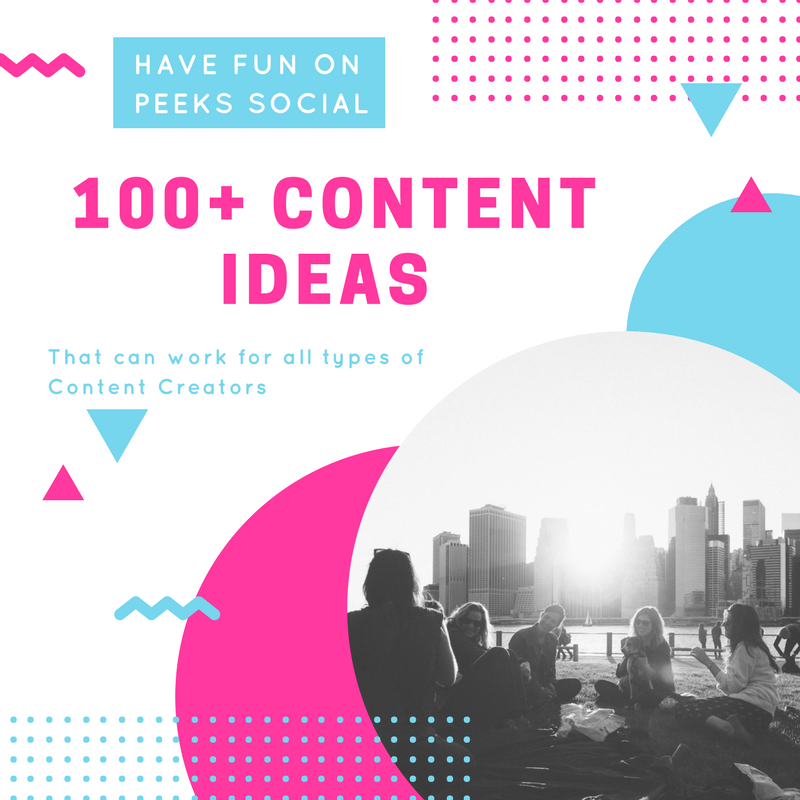 Don't know what to post or stuck in a rut on new content ideas? It can be difficult to think of new and engaging ways to interact with your audience, so we're here to help! We have put together a list of post ideas that can work for all types of Content Creators.
Content Creator/Influencer
How to start your first live stream/vlog

How to make money live streaming/vlogging

How to grow your Peeks Social followers

How to get more traffic on your videos

How to create a community

Peeks Social tips

How to create catchy titles

Your livestreaming success tips

Why you started live streaming

Interview other successful content creators

What you use while live streaming (lighting, equipment etc.)
Lifestyle
Your favourite product of the month

Things that make you happy

What's in your bag right now

How to manage your time effectively

First date tips

Favourite ways to relax after a stressful day

Share your guilty pleasures

2018 Bucket list

Your top 3 organizational tips

Your favourite streamers on Peeks Social

Your favourite DIY crafts

5 inexpensive date night ideas
Food
Your favourite meal

Your go-to meals when you're on the go

Meals under 30 minutes

Healthy foods and their benefits

Best places you've eaten

Try a new product (a food product, a food subscription box, a tool or appliance etc.) then review

Best places to eat in your town

Why you started a food vlog

Top 10 food vlogging tips for beginners

Healthiest options at fast food restaurants
Beauty and Fashion
Makeup products you can't live without

Your favourite product of the month

Makeup tips for when you're on-the-go

What are your daily hair care products and tools

Your top 10 Beauty secrets

Makeup tutorial on a specific makeup look

How to dress for a job interview

Your skincare routine

Makeup products on a budget

Your favourite drug store products

Product review

Fashion trends you hate

What to do when you have a wardrobe malfunction

Beauty and skin care basics in your travel bag

Why you started a beauty vlog

Beauty/fashion wishlist items

Your favourite subscription box
Travel
Your must have carry on essentials

How to overcome being homesick

Best places to travel

What to pack in your suitcase

Your go to restaurants in (specific location)

How to organize your suitcase

Most creative ways to save money for travel

Share all the places you have travelled

5 ways to be a tourist in your own town

Share your first trip experience

Share your favourite trip

Visiting (specific location) on a budget

Share your travel bucket list

How to book cheap flights

How to successfully plan a trip

Qualities of a good travel buddy
Health and Fitness
Top 10 nutritional tips for athletes

5 Weight Loss mistakes

5 tips to help you achieve your health goals

Review a health or fitness product (workout gear, supplement, app)

Create a list of health foods you crave

Favorite workout clothes

Favorite workout routine

Favourite at home workouts

Your reason for starting a health and fitness vlog

What's in your gym bag

Top 10 food to gain muscle mass

Workouts for getting a bigger butt

Workouts for getting your summer body

Workouts for losing a muffin top
Personal Financing
Your success with saving and making more money

How to budget with irregular income

Your reason for starting a personal finance vlog

How to start a money making on social media

50 money saving tips

How you can make your money grow

Top 10 money myths you need to stop believing

How to get out of debt

10 questions to ask your financial advisor

How to make thousands each month through live streaming

40 ways to make extra money

Ways to spend wisely

How to make money on Peeks Social
Gaming
How to become a successful Gamer

Product review

Your reason for starting a gaming channel

Top 10 gaming tips

Your must have gaming essentials

Your Top 10 favourite games

5 gaming mistakes

Top 10 gaming secrets for (specific game)

How to start a gaming channel
Viewers like to see content that will be beneficial to them or help them out in some way! Join the community of creators getting rewarded for their content. Start the conversation, share your thoughts, earn real cash instantly. Peeks Social allows the freedom to connect with people authentically and get rewarded for it!
We'd love to hear from you, send us your feedback at feedback@peeks.social or leave us a comment on our Facebook or Twitter.
There's more to come! Follow us on social media and subscribe to our newsletter to stay tuned.